If you follow InfoTrust, you know we conduct various analyses each year to scope out what platforms the top organizations utilize to fully understand their customers' journeys on their websites. 
InfoTrust recently announced the finance, insurance, and crypto industry as one of our main verticals we specialize in. With that in mind, I conducted an analysis for these types of companies, specifically the largest U.S. banks by asset size, to understand what they use.
Like other analyses before, I ran individual marketing tag scans of the top 100 banks' main websites using our proprietary platform, Tag Inspector. With Tag Inspector, we're able to gain a visual of what marketing platforms are loading on their websites, what data is being collected, what cookies are being set, and more.
For this analysis, we'll share:
The top analytics platforms used

The top tag management systems used

The top a/b testing platforms used

The number of total platforms found loading
Top Analytics Platforms
The backbone of every website is the analytics platform. This platform's main priority is to measure and track the user journey from their first arrival to—fingers crossed—the end conversion. In the case of banking institutions, that key conversion could be to open an account, find a local branch, or apply for a loan.
Using Tag Inspector's scanning technology, we were able to identify the following analytics platforms loading on their websites. Please note that Tag Inspector is unable to distinguish whether a website uses Google Analytics free or Google Analytics 360 (GA360), so they will both be classified as Google Analytics.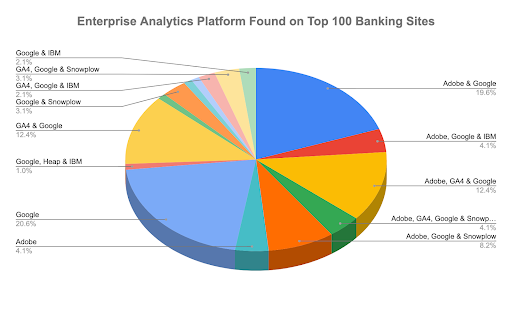 We found:
Adobe Analytics loading on 54% of all websites

Google Analytics on 95% of all websites

Google Analytics 4 (GA4) on 34% of all websites

Heap Analytics on 3% of all websites

IBM Analytics on 8% of all websites

No analytics platforms on 1% of all websites

Snowplow Analytics on 18% of all websites
From the analysis, you can see that a majority of the largest banks in the country have more than one analytics platform loading on their website. There could be a number of reasons for this, such as migrating from one analytics platform to another or using two platforms for two different teams i.e. Adobe for web experience and Google for digital marketing.
However, there could be cases of former analytics tags loading on these websites that aren't being used and collecting data for the heck of it. We have found that a lot of the clients who we begin working with have various tags on their website that they weren't aware of. Many are historical, in which an analytics platform was used at one time but not fully removed from the site. Same thing goes for pixels: Essentially they implement a pixel for a specific campaign but never remove it from the source or TMS. 
This isn't just a potential performance issue but a governance issue as well; if you don't know what data is being collected and a user requests to have their data deleted, it can be a hassle to go through and clean up your data.
Another oddity that we found is that almost every single bank uses the current Google Analytics, and yet only one-third of those companies are dual-tagging GA4 alongside it. Google has shared that GA4 will become the new Google Analytics (GA) moving forward, and the current GA will potentially deprecate in the next 24-36 months. If you want to have the historical data to conduct advanced analysis to better understand your audiences, it's critical that you implement GA4 today alongside your current implementation of Universal Analytics. Plus, GA4 doesn't have hit limits, so there is no cost involved.
Besides that GA4 tip, here are some other recommendations for optimizing your analytics platform:
Conduct an analytics audit to better understand which analytics platforms you're currently using and how they're being used (what parameters are being collected, what pages are they loading on, etc.).

If you're using more than one enterprise analytics platform, make sure there's a reason behind it; having more than one can bring more complexity across all teams involved.

Consider hiring an experienced consultancy to help ensure you're maximizing your analytics platform usage. Check out

this checklist of things to consider when looking at an analytics partner

.
Top Tag Management Systems
The second set of platforms we analyzed were the tag management systems. You can compare these platforms to organizers that set the foundation for where your first- and third-party tags load, fire, and where they send data to.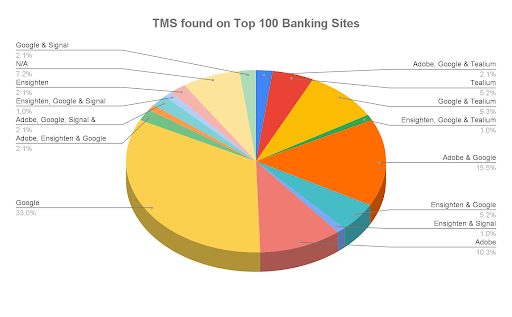 From the scans, we found:
Adobe Launch was loading on 32% of all websites

Ensighten on 13% of all websites

Google Tag Manager on 74% of all websites

No TMS' were loading on 7% of all websites

Signal on 6% of all websites

Tealium on 20% of websites
The goal of any website is to have your customers complete key conversions that will hopefully be reciprocated in the long run. How organizations achieve this is by collecting data points through their numerous marketing and analytics platforms to better understand how their users interact with their website/ads, and then make the necessary adjustments to improve their success.
However, if numerous marketing platforms are collecting information about a user when a page loads, it can lead to a slower load time of the website, which in turn could lead to a frustrated user. By giving a negative experience, you're jeopardizing your chances of creating a long-term relationship with that user.
This is where the tag management system comes into play. It allows analytics teams to control where specific tags are placed and firing, which could lead to improving site performance. It's this reason why having two different TMS' load on your website is the exact opposite of what you want.
Think about it: If you have two TMS' fighting to load their batch of tags first, then you're not giving a chance for the tags to load asynchronously and collect the necessary data. When using a TMS, you need to consider how it'll affect your entire digital architecture.
Start off by conducting an audit of your website to see how many different TMS' are loading and how they're setting tags. By having this as a starting point, you can make the necessary changes to optimize your TMS usage, as well as better determine if that TMS is the best fit for your team.
Additionally, you can consider reaching out to an expert like InfoTrust to help configure your TMS, share best-in-class practices, or even lead your tag management/governance process i.e. helping you identify and update what tags are being deployed within your TMS.
Top A/B Testing Platforms
The third set of platforms we looked at were A/B testing platforms. Their purpose is to allow analytics teams to test different scenarios to see if one difference leads to a higher conversion, KPI, or performance rate being achieved.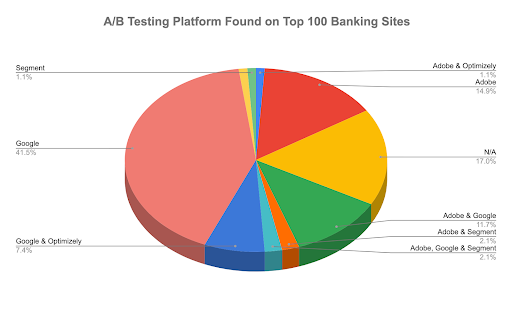 With Tag Inspector, we saw:
Adobe Target was found loading on 33% of all websites

Google Optimize on 60% of all websites

No A/B testing platform was on 17% of all websites

Optimizely on 9% of all websites

Segment on 5% of  all websites
It's surprising that almost one-fifth of the top banking websites don't use a A/B testing platform. In the world of analytics, leaders have the mindset of testing and learning in order to find winning combinations/journeys that lead to conversion rates and could be reciprocated in the long run. 
Especially with the recent privacy regulations coming out and the upcoming death of the third-party cookie, it's critical to start testing ways to get your users to not only complete a conversion, but also trust your organization enough to share their data to give them a better user experience. At that same time, you can use that first-party data to enrich your business decisions, which could be used to convince more users to share their data, and so on.
Truth be told, you probably don't need to have more than one A/B testing platform on your website (for performance purposes), unless you're testing them against each other to see which would be the better addition to your team's tech stack. When looking at A/B testing platforms, you should consider some of the following:
How easy is it for us to implement this platform?

Who on our team is qualified to use the platform?

What are the features that each platform offers and doesn't offer?

What can the platform integrate with? I.e. analytics platform to focus on important audiences

Am I able to demo the product before purchasing?
If you're currently using GA360, something else you may want to consider is looking at Optimize 360. There is a significant discount on Optimize 360 if you purchase both at the same time, and there are many benefits with their native integration. You can also try Google Optimize free first to determine if it's the right A/B testing platform before upgrading.
Total Martech Platforms
The last portion of the analysis was dedicated to understanding the number of marketing platforms loading and collecting user data on these banking websites. With everything changing in the privacy landscape, we thought it was important to devote a section on the challenges and recommendations we're seeing/sharing with our partners.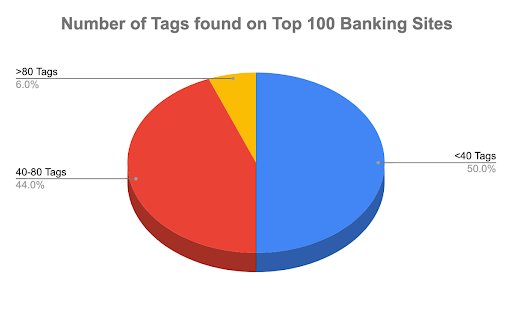 From the analysis, we found that:
50 banking websites had less than 40 marketing tags loading

44 had between 40-80 marketing tags loading

6 had more than 80 marketing tags loading (one website had a total of 124!)
These marketing tags were found loading via page source, through a tag management system, or through another marketing tag (what we call piggybacking).
The reason we wanted to share this is because we're approaching a time where
Third-party cookies will be deprecated in the next couple of years, making it more difficult for organizations to track user journeys.

More online regulations are being proposed i.e. California Consumer Privacy Act (CCPA),

Virginia Consumer Data Protection Act (

CDPA), and they will have an impact on how companies collect and use their customer data.

Users are becoming more aware of these changes and want to have a clear understanding of what data is being collected

and

the option to decide whether they want their data collected or not.
With numerous tags loading on a website collecting different data parameters and setting numerous first- or third-party cookies, it can become difficult to be ready for a privacy-centric future. Here's an example of one banking organization's digital architecture: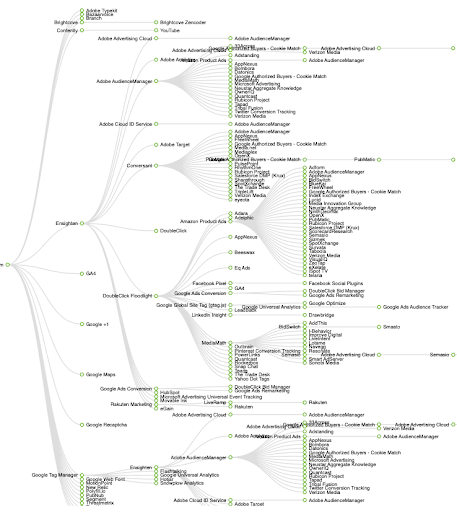 Not having full visibility into what is loading on your website and being able to abide by these new changes will potentially lead to being fined for not being compliant with these regulations and negative user experiences, which in turn could lead to losing your customer base.
That's why we're preaching to organizations to start preparing for the future now by ensuring you're collecting complete and compliant data in the most efficient way possible to drive better business decisions. A great starting point is to conduct a data governance audit of your website to see:
Which platforms are set on their website(s)

What data points are being collected by said platforms

What cookies are being set by said platforms

What steps are in place to continually monitor tag activity across their properties
From there, you can work internally or with a partner like InfoTrust to develop a roadmap of getting to the point where your organization is prepared for a privacy-centric world. Our platform, Tag Inspector, has helped hundreds of brands gain visibility into what their full digital architecture looks like.
Conclusion
As you can see, there isn't a clear pattern of what the exact digital architecture should look like for banks, or any financial institution more broadly. It's likely some of these organizations made these decisions for vastly different reasons, and these reasons may no longer be valid at all. Additionally, you shouldn't believe adding a new platform to your stack will solve all of your problems from both a data collection or performance point.
As we have shared from previous analyses, to build a strong and compliant architecture to accurately collect complete and compliant first-party data, you need to:
Map out your business objectives and prioritize what success looks like.

Document what people, platforms, and processes you have in place (and what is needed).

Run an audit of your website to see what you're working with, and make the necessary changes. We highly recommend utilizing

Tag Inspector

in helping you discover your online setup.
Interested in learning more about how we help our partners advance along their analytics journey?
Contact us to see if our services are the best fit for you and your team.