For most, with the beginning of the New Year comes the realization that there is just so much to get done. We come back from the Holidays to an avalanche of new emails and projects. All we want is for things to be made easier some help in getting things done more efficiently. Luckily, the Tag Inspector team has been hard at work working to make things easier when it comes to identifying and diagnosing tagging issues on your website!
We are excited to announce the introduction of three new features within Tag Inspector Realtime to help you with all things Tag Auditing and Monitoring:
Site-level sorting and filtering within Validation Rules

Condition failure reporting within Validation Rules

Validation Rule summary for each Page Load
Site-level Sorting and Filtering
When creating Validation Rules within Tag Inspector Realtime, you can save time by applying rules across multiple sites. Traditionally, the status of these validations was aggregated together. With this new update you can now segment to see validations for specific websites, making diagnosing failures much easier:

Condition Failure Reporting in Validation Rules
For any Validation Rule in Tag Inspector Realtime, there is the ability to apply multiple conditions (or tests) to the same validation. This can be useful if you want to test the collection of multiple parameters or data points collected by the same tag platform on a page or site. With this most recent update you can now see aggregate information about which condition is failing within a rule without having to drill down to the page load level.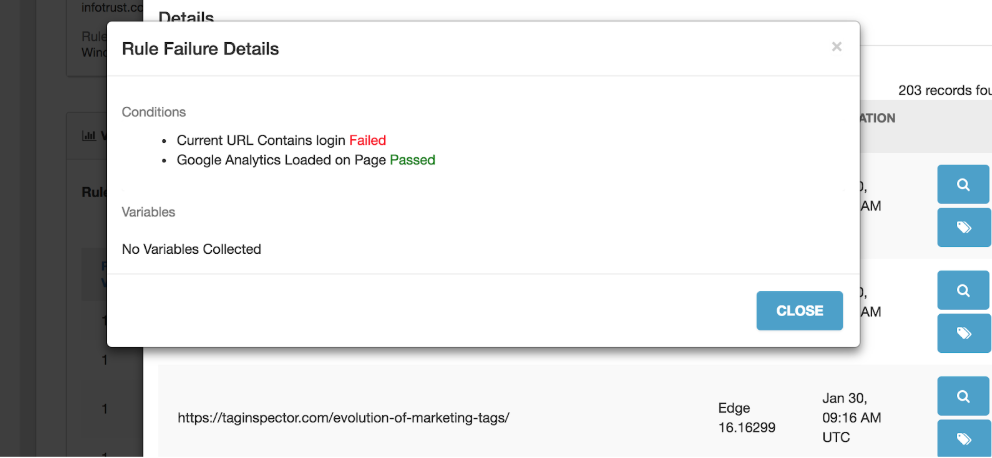 Validation Rule Summary for each Page Load
One of the most useful benefits of Tag Inspector Realtime is the ability to go back and view actual tag behavior for live page loads on your site. This allows you to see the tags that were fired, data collected, and timing for each request and page load. To make the identification of any tag issues easier, we have now added in additional context about any Validations run for all page load level reporting. Use this to spot check data collection requirements and view all relevant tag behavior data in one view.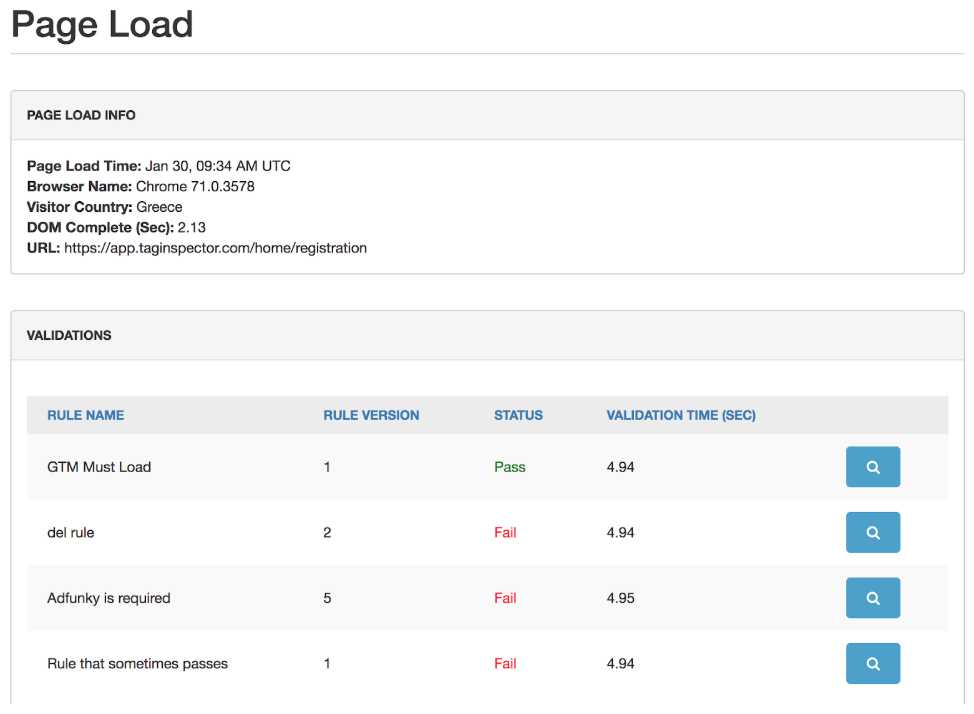 Facebook Comments