At the Digital Analytics Association's OneConference event last evening in Chicago, Tag Inspector's new cookie auditing and reporting functionality received the Quanties Award for Best New Technology.
Why Is This New Technology So Important?
Given the current privacy and compliance environments in the European Union (GDPR), California (CCPA), and beyond, it is more important than ever to truly understand the data being collected across all of your organization's websites, along with the behavior of all tags.
Addressed directly with some of the privacy legislation, as well as ITP (Apple Safari) and ETP (Mozilla Firefox), is the placement and use of cookies being set on user's browsers when they are accessing your websites. To provide more transparency and help Tag Inspector users understand the cookie environments of their sites, our team developed a cutting-edge cookie audit and reporting functionality within the Tag Inspector platform.
What Is the New Cookie Audit and Reporting Functionality?
Whenever you run a new Tag Inspector scan – in addition to all the great tag loading behavioral data you receive now, you will also find a few additional sections to the reporting.
1. COOKIES SET BY TAG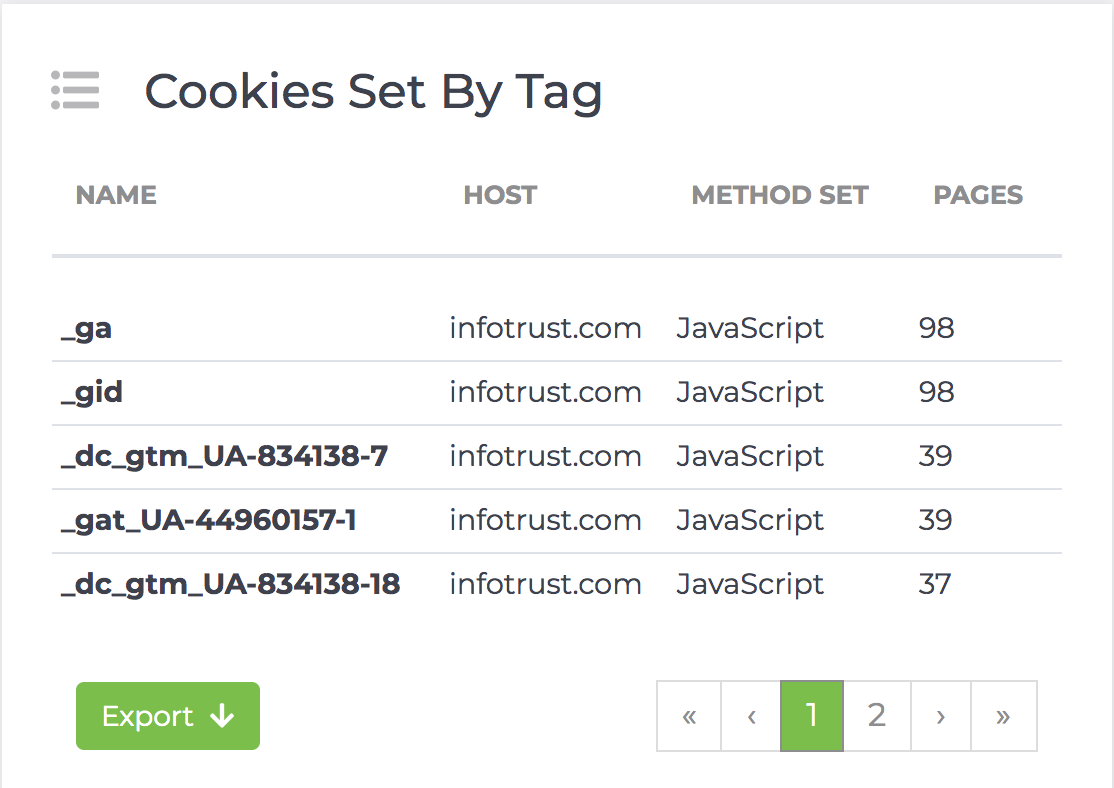 In the "Scan Details" section of your Tag Inspector Scan report, you will find a new module titled "Cookies Set by Tag." When you select any of the tags found loading on your website, you can find a list of the cookies set, domain on which they are set, the method in which each is set, and then also the number of pages on which each cookie is being set.
2. COOKIE REPORTING
For any new Scan run, Tag Inspector users will now find a unique section of the Scan report titled "Cookies." Within this reporting, you are able to view a list of all cookies being set on the browser when the scan was run. It will list the name of each cookie, the tag setting the cookie, the domain on which the cookie is set, as well as the method by which the cookie was set.
To see more granular information about each of the cookies found, you can also click on the name of the cookie to view the URLs on which the cookie is being set, the specific file that is running to set the cookie, as well as the value for each cookie on each of the unique URLs on which it is set.
How It Works and Common Use Cases
To learn more about the award-winning cookie detection feature, how it works from a technical standpoint, and common use cases we've seen thus far (though there are countless more), visit this article.
Try Tag Inspector for Free
Register now for a free Tag Inspector trial account.