There are multiple reasons you might be interested in determining the tags firing – and, in turn, which tags are not firing – on any given website. To find marketing tags firing on your site manually can be a real challenge. Reasons may include competitive intelligence to see what tags are loading on other sites, ensuring your analytics data is accurate by making sure your analytics tags are on every page of your site, or discovering new potential clients for your business depending on what tags they are loading. Regardless of the reason, there are ways to determine the tags firing on a site, including a revolutionary product recently developed called Tag Inspector.
Ghostery
Ghostery is a free browser extension that "tracks the trackers", giving you a roll call of the ad networks, behavioral data providers, and web publishers that are running on any given site. It captures the tags that are firing on the site and displays them in a quick drop down view.  Ghostery can also be modified to not load certain tags, for testing purposes and privacy ability (if you do not want to be seen by analytics tools for example). Simply install the extension on Chrome, Opera, Firefox, Safari, or Internet Explorer and you'll see a popup similar to the one below:
One shortcoming of Ghostery is that it's very time consuming if you want to check the tags firing oneach and every page of a site.
Firebug
Firebug is like Ghostery on steroids, and only for Firefox. It's also free, except in addition to finding tags firing on a site, you can measure a site's javascript performance, tweak and position HTML elements with CSS, look at detailed measurements of a site's network activity, pinpoint any element in a webpage's code, perform interactive debugging, etc. There's one catch, however. Firebug is Firefox-exclusive. Chrome developer tools has similar functionality to Firebug as well, but that is built into the Chrome browser.  They essentially can accomplish the same things.
First download the Firebug add-on in Firefox. Then click the Firebug tool icon in the upper right-hand side of Firefox:
Now Firebug should appear on the bottom of your browser window. Simply click the Net tab, followed by the JS subtab, and then refresh the page (F5). Now you can locate the tags firing, such as Google Analytics in the image below:
However, like with Ghostery, Firebug only scans for tags one page at a time, making an entire site scan difficult and time-consuming. That's where Tag Inspector can come in handy.
To use Chrome developer tools, you simply open a site in Chrome and navigate to the Chrome developer tools under the settings option.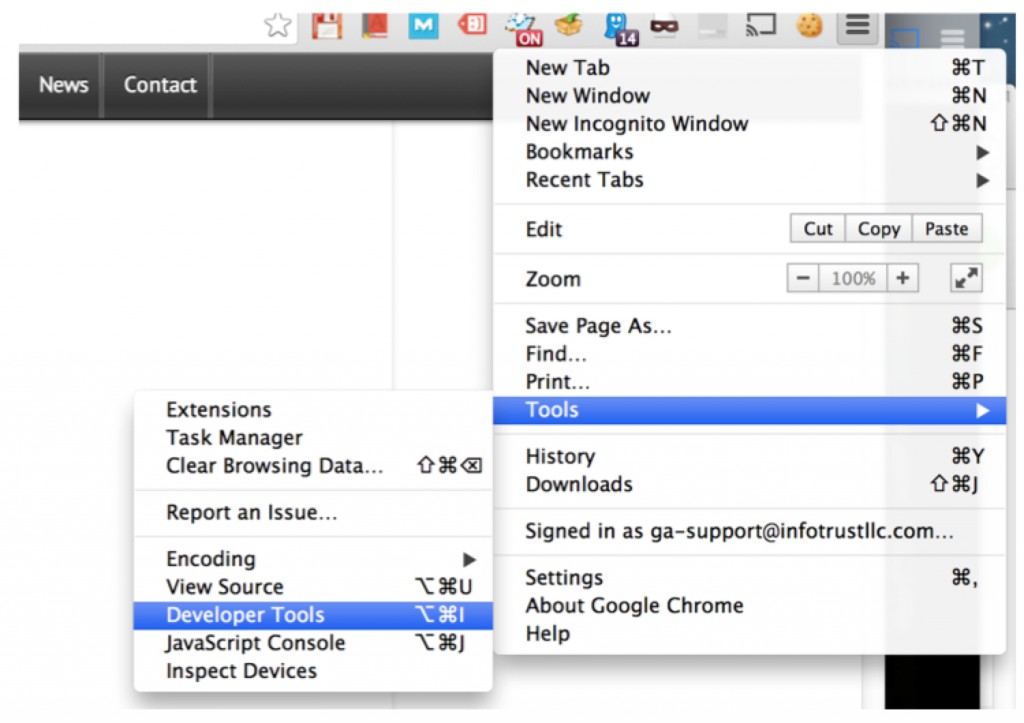 Tag Inspector
Tag Inspector is a tool  developed by the InfoTrust team a little over a year and a half ago that fulfills the shortcomings of similar products like Ghostery, Firebug and Chrome Devleoper tools. Tag Inspector will crawl every page of the website entered, including javascript files and tag management sytems, to find all the marketing tags of your company's site, the site of a competitor, or the site's of potential clients. It then generates a downloadable report listing all tags and their locations. If a tag fires on one page but not on another, Tag Inspector will inform you of the pages that the tag is missing. Here's a brief video explaining some of Tag Inspector's uses and features:
We've also written a number of blogs on the topic of tag management, including its value and what it means for businesses. Tag Inspector would be ideal for locating tags during the process of migrating over to a tag management system, click the image below to sign up for a free account today and launch your first free scan!
Tag inspector supports hundreds of marketing tags, and you can test the product with a free 100 page scan. If you'd like additional information about an entire site scan contact us at taginspector@infotrustllc.com.
Posted by James Love
Facebook Comments