It's no secret that recently the entire advertising technology (adtech) market has been going through a rough patch. The advent of Large Language Models (such as ChatGPT) has made finding information much more straightforward for the average consumer. No longer do you need to suffer giant banner ads and grotesque ad popups in your face. Now by simply asking LLMs (like Bard or ChatGPT) questions via a chat interface, you can get direct and concise natural language answers at your fingertips. What a time to be alive!
As these seismic shifts rock the industry, adtech platforms are now falling like fruitflies. For years, they'd been on the gravy train collecting valuable consumer data left and right. But no longer! Thus, if you are an owner of a large site and have deployed great swatches of adtech platforms on your site to hoover up precious customer data for actionable insights, how can you confidently ensure that your site is continually clean and free of "dead tags"? Dead tags will slow your site's performance and, even worse, may even send valuable customer data inadvertently to bad actors (who take over defunct domains).
Enter, Tag Inspector! Tag Inspector to the rescue!
Let's take the specific example of AddThis, an erstwhile popular adtech platform that recently bit the dust. If you are an organization with a portfolio of sites and are keen on ensuring your sites are clean and firing only legitimate tags, by leveraging the Governance module functionality of Tag Inspector, you can easily at a glance see all of the tags that are firing on your portfolio of sites with the "Tag Summary" tab in the Tag Inspector's Governance module: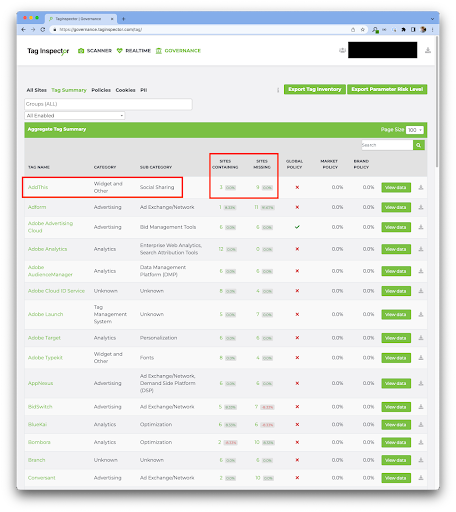 At a glance, with Tag Inspector, you can easily see what sites in your site portfolio contain the now defunct "AddThis" tag. And then you can further click on "Sites Containing" to see which sites this undesirable tag lives! Once in a Tag Inspector scan, you can then easily follow the tag hierarchy to see what pages are loading the bad tag: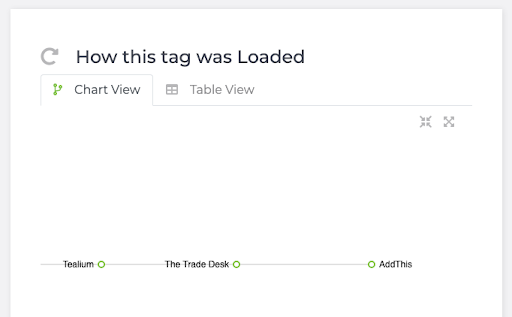 Finally, of particular note is that even if the tag is dead and no longer returning a 200 status code—if it appears at all as an outbound network request on a webpage (even returning a 404)—that tag will still show up in Tag Inspector. This is because Tag Inspector's tag monitoring technology detects any tags that are simply on a page (and not if a tag has successfully actually fired and received a response on the page). This distinction is subtle but important—as this is the key factor that allows Tag Inspector to help ensure a site is rid of dead and undesirable tags.
Thus: if you are interested in keeping your home clean of undesirable and defunct tags, please give InfoTrust a call! In the ever-changing tagging landscape, any website is simply one bad tag away from inadvertently collecting valuable client data without consent which may land your organization in heaps of litigation trouble. And aside from mitigating litigation risk, no one likes a slow website loading decrepit tags either. In all of these cases, Tag Inspector can help. Help us help you keep your home clean today!
Do you have questions about tags on your site?
The Tag Inspector team is here to help!