You might have read in the recent news that the California Attorney General announced the first fine and settlement under the CCPA. This $1.2 million fine included some requirements your organization needs to consider following if you are not now. One of the violations included not respecting the user's choice to opt-out of targeted advertising via Global Privacy Control.
What is Global Privacy Control?
Global Privacy Control is a consortium of browsers and plugins that a user can employ to transmit his/her privacy wishes to an organization without the need to press a "Do Not Sell My Personal Information" button or interact with a Consent Management Platform. This has now become an enforceable requirement of the current CCPA and the expanded CPRA going into 2023. Learn more about Global Privacy control here.
How do I test if my organization is meeting the requirement?
Fortunately, the team here at Tag Inspector has the solution! We have added the ability to scan your website, not only as a California user, but with the Global Privacy Control Signal enabled as well.
Running a scan with Global Privacy Control enabled is easy. Simply enter the website URL you would like to scan, select California as your scan region, and for the consent selection choose the Global Privacy Control radio button.

You are off to the races! A tag report will be generated for you listing out all of the platforms loading, how they loaded, and cookies set for a user with Global Privacy Control enabled.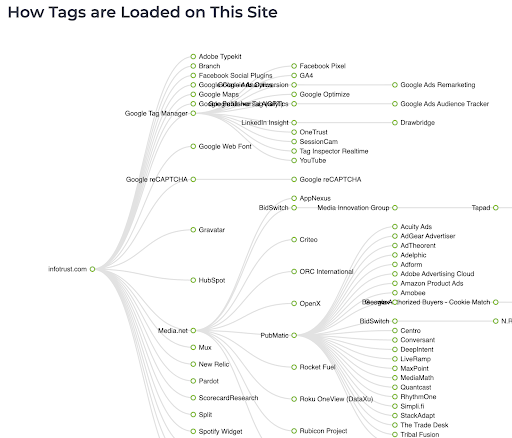 How does this help me in the context of the CCPA?
To ensure compliance with CCPA, you need to make sure that when the Global Privacy Control signal is present, third-party marketing tags which "sell/share" will either not load for the user, or load in privacy-enhanced mode. Think of any tags you may be using that will result in the user being added to an audience for retargeting—or transferring personally identifiable information to—as a result of the user visiting the site.
If you already have your website and tags triggering based on Global Privacy Control signals, fantastic! Tag Inspector will be the perfect tool for testing the configuration—and it ensures your website is responding to the signal and behaving appropriately based on the user's opt-out choice via Global Privacy Control. Thanks to Tag Inspector, you can have peace of mind that your organization is compliant now and in the future!
Let us know if you would like a demo of the new feature and an overview of the CCPA violation announcement—we would be happy to assist you in your compliance journey.
**Important – The information covered in this article is not intended to be legal advice or counsel. You should not act or refrain from acting on the basis of any content included in this article regarding legal compliance without obtaining appropriate legal guidance. The contents of this article contain general information related to various laws and regulations, but may not reflect your current situation. In addition, applicable laws and regulations regularly change. This is particularly true with respect to data privacy laws and regulations. Therefore, any laws and regulations described or otherwise referenced in this article may not be current when you read the article or even at the time of publication. We disclaim all liability for actions you take or fail to take based on anything in this article. Any action you take or any action you refrain from taking based on the information in this article is entirely at your own discretion and risk.**
Want to learn more about the new Global Privacy Control feature in Tag Inspector?
Let's set up a demo and get your questions answered!