At Tag Inspector, our goal is to help organizations holistically address their tag governance needs; this means ensuring complete, compliant, and efficient data collection across all of your digital properties. To help specifically with the collection of compliant data, we are happy to introduce our new Privacy & Compliance suite of functionality.
Overview
In light of regulations such as GDPR, CCPA, LGPD, and ePrivacy "cookie laws"—not to mention customer expectations—it is necessary for organizations to understand exactly which platforms are collecting what data on their digital properties. Tag Inspector's Privacy & Compliance module provides reporting and functionality to surface relevant information about tags loading, cookies set, data collected, privacy risk, and the presence of unauthorized platforms to greatly simplify the audit, policy definition, and policy monitoring processes.
Reporting
Aggregate tag information across all websites in your organization.
The foundation of the Privacy & Compliance module is a simple tag inventory report that allows you to view all of the unique platforms loading across your entire global site environment. Segmentation options allow you to view results by brand, region, site, or the consent condition of the user for unparalleled visibility into global tag behavior.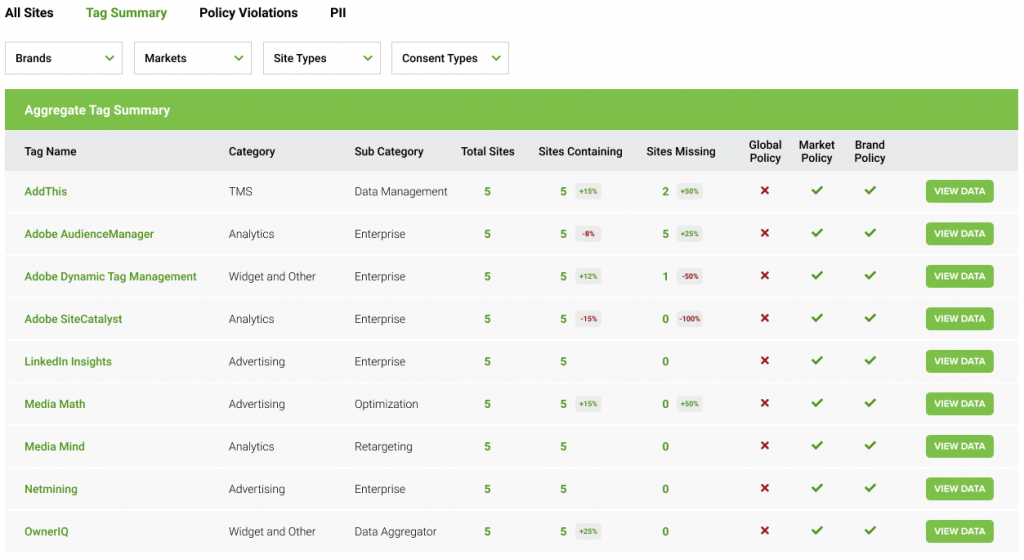 Cookie reporting across all websites in your organization.
View all cookies set when users are browsing your website, along with important cookie attributes. Powered by the award-winning cookie detection functionality in Tag Inspector, access a unique view that includes context for the tag responsible for placing each cookie.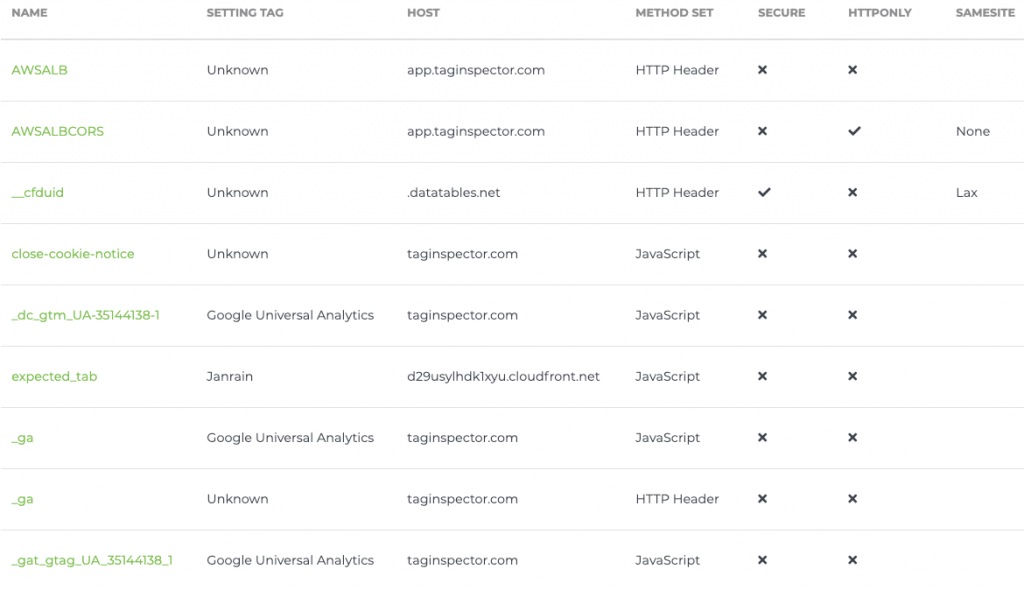 Industry-leading tag library and hierarchy visual. 
With around 2,500 unique platforms classified in the Tag Inspector library, be sure that all tag behavior is being represented in your reporting. Tag Inspector's tag hierarchy is the first and best visual to help you get your arms around how tags are loading across your websites. Identify tags loading from the source code, through your tag management system (TMS), as well as those piggybacking off other tags.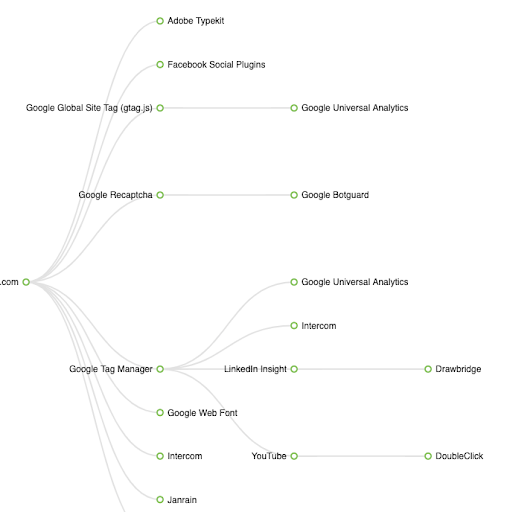 Simple identification of unauthorized tags loading across any of your sites.
Using the core tag inventory reporting as the base, the Privacy & Compliance module allows you to evaluate each tag for privacy requirements. As you define your compliance and privacy policy, reporting the data collected by each tag and accompanying workflows allows easy definition of "allowed" and "not allowed" tag-loading behavior. Saving those policies allows you to monitor and be alert of compliance risks found in any future audits run.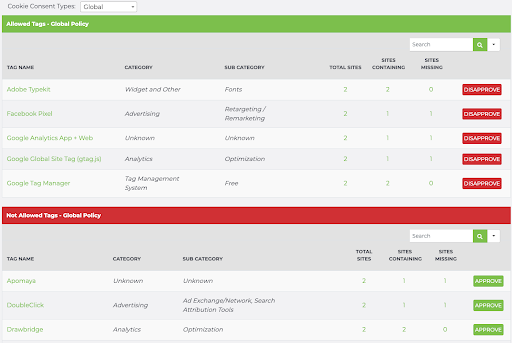 Features & Functionality
Consent Condition Simulation
Privacy legislation requires user choice and consent to be respected when collecting data, setting cookies, and processing their information. Tag Inspector allows you to simulate the consent conditions of users when running any scan. Use easy filtering in the central summary reporting to view all tags loading for each unique consent condition configured on your website.
Privacy Risk Level
The most difficult part of the tag compliance process is understanding the behavior and privacy implications of piggybacking tags, many of which you may not even be aware of. Tag Inspector's proprietary privacy risk level assessment assigns a rating for each datapoint collected by each tag, even anonymous data. Use the risk level to evaluate new tags for inclusion in your policies and to prioritize higher-risk platforms as you take actions on any privacy policy infractions. 
Allowed Tag Policy
Easy workflows enable the process of defining your policy for "allowed" tags on your website(s). Policies can be configured globally, for specific markets/countries, for specific brands, and for each consent condition. Once these policies are defined in the tool, they will be applied to all future scan audits. Results highlight any violations and alerts notify you of unauthorized behavior with context for easy remediation of issues.
Data Compliance Evaluations
Reporting surfaces necessary information for tag and data collection auditing while data compliance evaluation workflows enable quick action on this information. Evaluations are available for all found tags and all data collected by those tags to simplify the process of identifying and defining data considerations for CCPA and GDPR. 
Central Organization of Tag Information
Defining your Tag Policy is a necessary foundation for successful tag governance, but documentation and process-development are important to maintain a compliant architecture. Tag Inspector allows you to input both site and tag information to use the platform as a central repository for your governance policy. Input information such as tag owner, approval expiration dates, and relevant policy documentation to take quick action on insights highlighted in the audit reporting.
PII Monitoring
Using Tag Inspector's unique realtime data collection method, get live environment monitoring of any clear-text PII (personal identifiable information) being collected by tags on your site(s). Six pre-configured PII categories will be monitored for all parameters passed by all tags across your entire site environment. Define custom categories of PII to monitor additional attributes and be alerted when any PII is passed by tags on your site.
Due to its cross-functional nature, data governance can be difficult. You need legal to outline the requirements and what is allowed, the architecture team to modify and implement platforms to respect those requirements, and all the while the business and marketing teams want to maintain the practices and reporting they've always enjoyed. Auditing and surfacing the information necessary to take these actions shouldn't be hard. Let Tag Inspector's Privacy & Compliance module simplify each step of the process for your organization. 
Interested in learning more? We'd love to discuss what a tag governance solution can look like for your organization.
Contact Our Sales Team to Learn More
The new Privacy & Compliance module is an available add-on feature to a Tag Inspector Enterprise License. Contact our sales department to learn more.