The Tag Inspector team is proud to announce the launch of Tag Explorer, the newest plugin in the Chrome Web Store! This tool shows which marketing tags are running on any webpage you are currently viewing as well as what beacons are firing. This is extremely useful when you want to quickly make sure your analytics tags are firing on certain pages, check for piggy-backing tags or to see the hierarchy of how each tag is being loaded.
Why checking for these things is important:
Checking for analytics tags: Ensuring that all your analytics tags are firing on every page of your site is essential. These tags need to be on every page to work properly and ensure that you are tracking the correct data.
Checking for piggy-backing tags: Third party trackers and piggy-backing tags can be bad for privacy and data sharing reasons.
Checking the hierarchy of tags: Migrating to a tag management system can be so much easier once you know the hierarchy of tags. Want to learn more? Check out one of our most recent blog posts on how to migrate to a TMS!

Added bonus: If you're not sure your conversion tags are firing behind a firewall or password protected pages, you can use this extension to check!!
So, what makes this browser extension different from other, similar plugins? Here's a list of all the features built into Tag Explorer: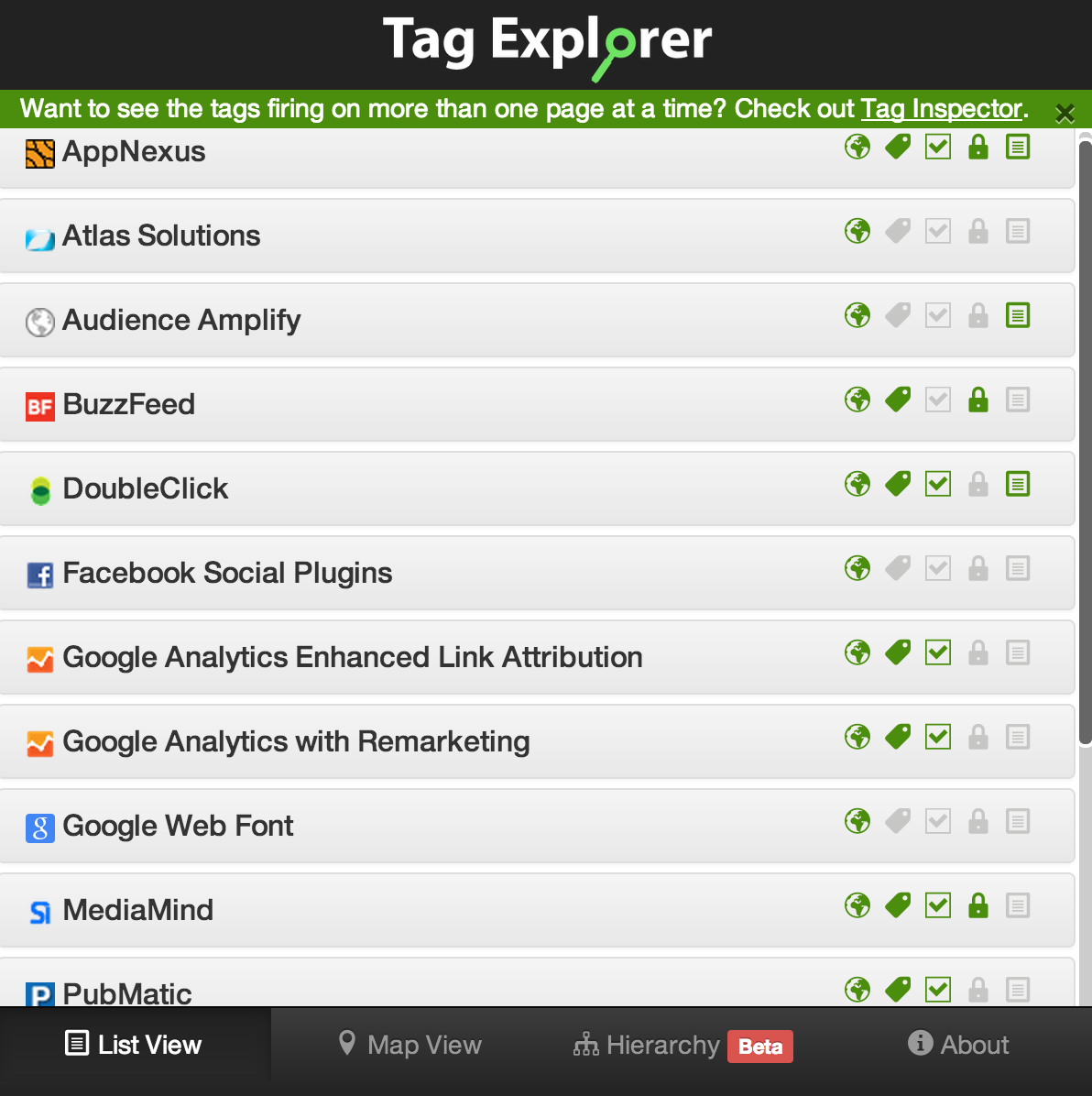 List View: This view shows every tag that is firing on that webpage, including piggy-packing tags and tags that are being loaded through a tag management system. This is a quick and easy way to ensure your analytics and other essential marketing tags are loading on key pages of your site, as well as identify which tags are not supposed to be firing. There is also added benefits to this view. Note the icons on the right hand side of each tag name.                                                                                                                                                                                                                                                                                                                                                                       From here, you can easily access the tag publisher's website, privacy policy or a summary of site's privacy policy (if applicable). The Tag Inspector team has also created an online database called 'Tagopedia', which is a library of third party tags and their descriptions. This can be edited and updated by creating an account at www.tagopedia.taginspector.com.
Map View: This view shows the location of the IP address from where each tag is being loaded onto the site. This is NOT the location of the company's address, merely the location from which the tag is being loaded. Being able to pinpoint where each tag is originating from may help in determining why certain pages of your site have a slow load time or other problems related to site performance may be occurring.                                                                                    
Hierarchy View: This view is probably one of the most beneficial and unique components of the Tag Explorer plugin. The Hierarchy View shows the hierarchy of tags, or how each tag is being loaded onto a single page of your site. You can use this view to check for unwanted third party trackers and piggybacking tags that may be slowing down your site's load time, or gleaning unwanted information from your website's users. You can also determine whether or not a tag is being loaded onto the source directly or through a tag management system.This is a quick and easy way to troubleshoot and make sure that your TMS is loading your tags properly.                                                                                                                                                                                                       
Want to give it a try? You can download Tag Explorer for free via the Chrome Web Store, or by clicking here! Feel free to comment on this post with any comments or feedback on the product!
Want to see all the tags on your site quickly, and on more than one page? You can check out taginspector.com, the parent product that powers Tag Explorer.