Have More Trust In Your Data
Never question your data accuracy or data quality again. Daily scans and real time monitoring of your marketing tags ensures consistent, complete data collection across all platforms so you'll have the confidence you need to make data-backed decisions. All while helping you monitor tag performance, so you don't slow down your site!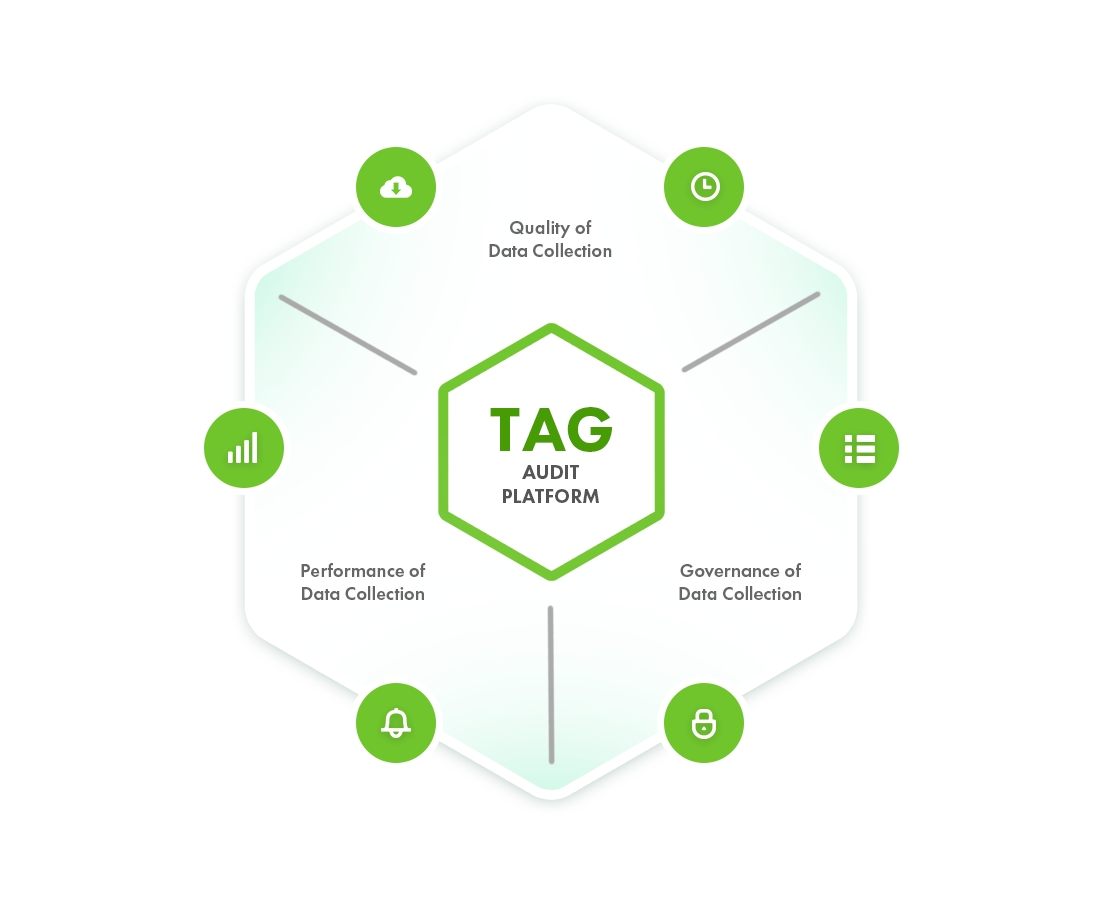 Scanning vs. Real User Monitoring: The Difference
Tag Inspector offers two product options, which you can choose from based on your organization's needs. Synthetic Scanning is the basis for all Tag Inspector functionality and provides a solid foundation from which most organizations can begin their tag management journey. Synthetic Scanning can then be paired with Real User Monitoring, providing real time validation and alerting based on tag behavior while live users navigate your site.
Synthetic Scanning
Website crawler simulates user session
Scheduled or on-demand scans
Scheduled scans provide ongoing tag behavior monitoring
Real User Monitoring
Monitor live tag behavior
Real time data validation, monitoring and alerting
Validates checkout funnels and conversion 'thank you' pages
How Does Tag Inspector Work?
The two options work in different ways, with simulated user allowing for "do it yourself" configuration and immediate scanning.
For real user and real time monitoring, a tag must be placed on your site. This requires some extra setup, but provides you with robust data and immediate alerts.
Synthetic Scanning
Nothing Installed On Site
---
Configure user agent and other parameters of simulated user scan.

Schedule when and how often to run your tag scans.

Scan crawls multiple pages of the site searching for tags and how they load.

Scan Results available in UI, reports and via our custom API.
Start Your Free Scan Now!
Real User Monitoring
Tag Placed On Site
---
Deploy Tag Inspector on the website(s) you want to monitor.

Configure validation rules and real time alerts for your website.

All tags loading on all pages of your site will now be monitored.

Collected data is available in UI, reports and via our custom API.
Contact Us Today
Data Quality
Data Collection Validation

Go beyond ensuring the initial implementation is correct; validate proper data collection in the live environment at all times. Tag Inspector Realtime will validate tag behavior on every conversion, every button click, and every page load to identify any potential issues.

Robust Tag Library

Over 2,500 tags are currently in the Tag Inspector library with new classifications added weekly. All tags are identified on all scans and live monitoring. There are no limits to how many tags you can audit and no need to specify which tags you want us to check.

Identify unauthorized tags that you didn't even know existed loading on your site. Full site audits for all tags and technologies has never been more powerful!

Intelligent Crawler

Tag Inspector's intelligent crawler will navigate all pages* of your website, simulating a user, and capturing requests sent by tags firing on initial pageload. See what tags are present, the pages they are on (or missing from), how each tag loads, and key performance metrics for all hits sent by all tags.

Ongoing Tag Monitoring

Monitor the behavior of tags at all times in the live environment. Identify tags that are removed from the site, data that is no longer being collected, and any changes in tags on the site. Create Validation Rules around required tags and data collection. If the rules are broken, be alerted in real time of any violations
Performance Monitoring
Tag + Pixel Performance

Identify issues with tag latency and site performance due to tags/pixels on the site.

In Tag Inspector reporting, see latency for all hits sent by each tag, see how tag performance is affecting data collection, and identify tags responsible for poor page performance and user experience.

Page Performance vs Tag Performance

RealTime tracks latency and other data points for each marketing tag, as well as for each page. You can easily turn your tag off, using a Tag Management System, on a page with high latency and observe how this affects overall page latency.


Export Capabilities

Are you crazy about data? So are we! The Tag Inspector API provides access to an unsampled data set that includes performance data, tag loading details and more!
Data Privacy
Tag Governance Monitoring

In Scan reports, identify the location of unauthorized third parties, data being collected by those tags, and how they are gaining access to your site.

In Realtime, identify the conditions under which unauthorized tags are firing on the site.

Tag Hierarchy

Tag Inspector's Tag Hierarchy allows a view of tag load behavior in a clean, visual representation. Dig deeper to see the stack trace of load behavior for all tags and identify specific pages that are double-tagged or where unauthorized piggybacking is occurring.
Automated Governance Validation

Define allowed and required tag behavior to be notified of any unauthorized tag loading behavior. With Tag Inspector Policies & Rules, create a Whitelist and have tags not on that list highlighted in the reporting. You can also define the tags that are required and how they should be loading.
Real Time, Real Results
Tag Monitoring Validation Rules

Tag Inspector Realtime™ records every byte of data submitted via tag network request. Validation rules allow both wizard-based and programmatic (custom JavaScript code) inspection of tag data. Validation rules can determine if a Social Security Number, Phone Number, Credit Card Number, email or any other string or characters are included in a tag request. Through leveraging Realtime Alerting, tag validation engine can inform fraud prevention department real-time if certain critical validation rules have been violated.

Track All Tags and Tag Data

Collect tag data from every page of every site within your enterprise. Tag Inspector Realtime can:

Collect data on private section of your website
Collect tag data through complex checkout or navigation funnels
Monitor tags that fire conditionally, upon a click engagement, or scroll
Tag Latency Reporting

Tag Inspector Realtime™ records how long it takes each tag to load and reports tag latency for actual visitor sessions – not simulated site crawl.

Validate all Analytics and Conversion Tag Variables

Tag data validation is an important requirement for any complex web analytics implementation

Tag Inspector Realtime™ tracks all GA custom dimensions, SiteCatalyst props and other custom variables.
Report Tag Outages in Real Time

Tag Inspector Realtime™ will detect if mandatory tags are missing from the pages and will report data outage within minutes.

Real life scenario – due to a tag coding error, Google Analytics is throwing an exception and not loading.

Fraud Prevention

Detect data leakage:

SSN
Credit Card
Personally Identifiable Information

Detect fields getting scraped and loaded into 3rd party tags
Multi-Brand/Multi-Site Governance
Unmatched experience supporting multi-brand organizations

Tag Inspector supports global requirements of number of the largest consumer packaged goods companies with 1,000's of global domains.

Flexible Pricing

Our pricing model is built on the number of pages and hits, not the number of domains.
Test global domains from regional data centers

With the latest release of Tag Inspector we have an ability to simulate scans from a number of regional data centers so we can test your US sites from US data center, Europan sites from European data center, Asian from Asia or Australia, etec


Integrate Tag Inspector into your web operations infrastructure

Tag Inspector API was designed to support high performance needs of global multi-brand organizations.

Start scans/export data via API
Export unsampled test results, build data visualization
Monitor tag presence across all global domains and validate test results.
Simulate clicking through privacy overlay to test what tags are firing with and without privacy overall